Is it tacky to wear gold & silver jewelry together? I bought a black dress, silver sandals with rhinestones on the straps & a silver necklace & a pair of earrings that match. My rings are gold.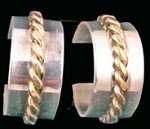 As far as jewelry goes, today it is acceptable and stylish to wear gold and silver jewelry together. A silver necklace and silver earrings may be too much matchy, matchy. Earrings and necklaces do not have to match. Experiment with just earrings and your rings. Look in the mirror to see if you need a necklace then decide. Too much jewelry can distract from you. Your outfit sounds fabulous.
Read More:
MATCHY, MATCHY OR NOT!
Matchy, matchy or not! In my showroom, Moxie, at the San Francisco Gift Center, those two philosophies are embodied in my showroom manager, Silvia Cuadra, a very stylish Latina fashionista, and myself with a bit edgier outlook on the fashion game.
Gemstones: Miraculous and Mysterious
A gemstone is a mineral rock or petrified material that when cut or faceted and polished can be used in jewelry or is a collectible. Others are organic. Some are too fragile to be used in jewelry, but can be seen on display in museums. The most important attribute of gemstones is their appearance. Gemstones are all different.
Jewelry Essentials
Like a basic clothing wardrobe you can build a basic collection of jewelry with a few pieces that can be worn for many years and on numerous occasions. The two most important considerations when choosing jewelry are quality and choosing pieces that compliment you. For instance, you should choose pieces according to your face shape, hair style, hair color, skin tone, and body proportion. Remember to buy the best that you can afford! A purchase of fine jewelry is a worthy investment.