What color wrap can I wear with a teal taffeta dress for my son's November wedding? I am wearing grey peep toe pumps (top of shoe is a shimmery lace).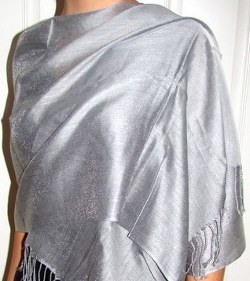 The best way to find the perfect wrap to wear with your dress is to try the different wraps with your dress and shoes. A solid gray wrap would work with your gray pumps. A print wrap might be too much but it never hurts to try.  Try a pair of elegant sparkly (quality rhinestone or diamond) earrings with the solid gray wrap. If you go with the print wrap simple silver earrings can work. It is very important to draw attention upward to your face area. Pay attention to your hairstyle and makeup. Your teal taffeta dress sounds perfect for your son's wedding.
Read More:
What Should the Mother of the Groom Wear?
You are the Mother of the Groom. You want to look great and make a good impression at your son's wedding. How do you begin to choose an outfit? It is a good idea to talk to the bride about her color scheme for the wedding and find out what type of wedding she is planning (daytime or evening).
Handbags, Scarves and Belts
Women's fashion accessories such as handbags, scarves and belts allow you to vary your basic clothing. The accessories you wear should go together. Two accessories in the same color are enough. For example if you are wearing a gray dress with a red belt. You can add a scarf that has grey, red and black in it. Then wear black shoes and carry a black handbag. Stylish women over time have pulled an entire outfit together, developed their individual style and / or added a final touch to their outfits with the right accessories.