How can I tone down a gray shirt (classy and formal) with a satin, glossy look for everyday wear?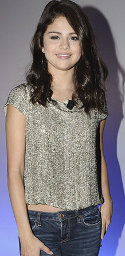 It is very stylish to wear dressy fabrics like sequins, velvet, satin, metallic, etc. for casual. When you wear the shirt you describe for everyday casual, pair it with something classic and only wear simple style jewelry and simple style shoes. For example you can wear your shirt with jeans or a skirt, flats, and a cardigan sweater. If you don't look good in jeans a pair of slim leg pants, flat or low heel shoes, a cardigan sweater and pearl stud earrings would be a casual look. See how Selena Gomez does it!
Read More:
10 Tips for Wearing Sparkles and Metallic
Tips to keep in mind when wearing shiny and glittery clothing and accessories.
Mix It Up: Bright Colors and Metalics
With summer breathing down our bundled necks, it's time to pack away the furs and sweaters and embrace this coming season's new looks.  One of the hottest current trends for accessories is mixing metallics with bright bold colors.  Surprisingly, this look can be extremely wearable, not to mention day friendly.  Here are some tips to make sure your ensemble is on point.