Hair Straightening System – The Brazilian

The Brazilian!
Many of my clients have been inquiring lately about the Brazilian Straightening System, so it seemed only appropriate to make it the topic of this month's hair tips. So, you ask…what is it? The Brazilian keratin hair straightening treatment system, also known as *Keratin hair straightening is one of the newest treatments on the market that smooths texture by eliminating frizz, and reduces and straightens curl. In contrast to other methods such as the Japanese * Yuko Hair Straightening System, which uses chemicals similar to a perm solution to remove curl, the Keratin treatment contains what the name implies, the keratin protein that is naturally found in human hair. It  changes the hair's texture by coating the hair shaft in keratin, then heat is applied directly onto the hair. The result is extremely smooth hair with a glassy finish. After receiving the treatment, clients have reported to have cut their styling time in half, even to the extent of being able to blow dry only with the aid of a wide tooth comb.
Finally, something the modern woman can have that takes a significant amount of time and effort out of the daily styling routine.
*Performed by certified salon professionals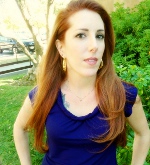 Sara Beth Cuadra
Guest Writer
Save