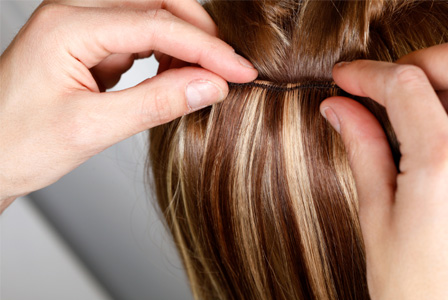 Hair Extention Styles
Have you ever seen photos of your favorite actress and noticed that she changes from a shorter hairstyle to a longer hairstyle seemingly overnight? Or goes from fine hair to a suddenly thick mane? The answer is pretty simple and no, it doesn't involve some amazing new super diet supplement. Hair extensions are fast becoming main stream and you would be surprised at how many so called average Americans have them applied regularly in the salon.
Hair extensions have been around for many years and there are a variety of methods for applying them which also determines the life span of their wear. One of the longest lasting hair extension types is made with very small bunches of human hair and bonded to the natural hair with a glue or resin. The advantage of human hair is the wearer can use hot styling tools and color them just as they would their own hair. These, once applied, usually require replacement about every 3 to 4 months depending on care.
There are also "wefts" formerly known as "tracks"  which are constructed of long strands of hairs sewn to a base that is laid down at the interior of the hair in rows and also glued. The life span for these is significantly shorter as they tend to loosen within a few weeks. If a temporary change is desired there are the clip in versions which are also made of human hair. These are similar to the wefts in design but instead of being glued in they have very strong clips sewn to the base and are clipped onto the natural hair. The advantage of these is they can be worn repeatedly and removed easily.
Read More: Hair Extensions 101
Sara Beth Cuadra


Guest Writer
Save
Save
Save
Save
Save
Save