Make A Statement This Fall
Fall 2013 is the time to begin thinking of new fashion trends. This season designers are showing menswear inspired looks such as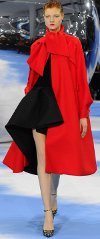 houndstooth/ checks, men style shoes and footwear with chunky heels. High necklines, especially turtlenecks, boxy shoulders, belted waists, folded, draped and padded hips are hot trends. Peplums are still favorites! Long hems or midi-length below the knee hemlines are gaining in popularity. Skirts with slits and sheath style dresses are favorites for fall. Add an item or two, shoes and handbags, with trims like straps, buckles, chains, and spikes for an edgy punk look.
The classic color combination of black and white, in evening gowns, white collars and cuffs on black dresses and two-tone patterns, etc., are key trends. Greens, especially emerald-green and teal (a combination of emerald-green and sapphire blue), are also popular for this fall. Teal colors look fabulous with ivory, charcoal, gold, navy and greens. Designers also showed a lot of red, winter white, navy  plus every shade of tan and camel.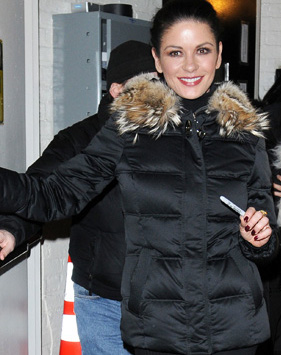 Make a statement this fall with bold outerwear. Oversize coats, quilted leather jackets, jackets with fur collars and fur trims (fox, shearling and mink) on shoulders necks and arms are very stylish. Faux fur jackets and vests, varsity jackets and sleeveless jackets are hot trends.
Stocking brands are showing creative patterns for fall. Black and neutral tones, paired with understated patterns and sheers create a sophisticated sexy look. Catherine, Duchess of Cambridge, continues to influence  legwear trends making matte and shiny nude-tone sheer hosiery, and basic opaque tights  in a wide range of fashion colors fashion must haves. Shimmery sheers  in colors plus sportswear-inspired leggings and semisheer styles in a number of patterns, textures and novelty yarns will be available. Luxurious lace and flirty floral legwear are strong trends for fall also.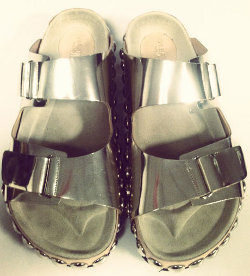 Booties, ankle boots, knee-high boots, patent leather pumps are also strong footwear trends. An emerging sandal trend for fall are clumsy looking sandals, termed "fugly" sometimes worn instead of dressy sandals with evening wear.
Baggy pants are coming on strong this fall challenging the slim pants that have been around for seasons.
Techno fabrics, fabrics with bold and beautiful patterns, color blocking, blocks of textures or patterns, sensual textures, supple and quilted  leathers, tweeds, brocades, animal prints, stripes, plus fur and faux fur in bold colors and patterns are strong trends.
Wear the colors and styles that flatter you and don't hesitate to wear them often.
VROGER VIVIER – "Sexy Cult" Collection, the Fall-Winter 2014