How can I be comfortable & dress stylish for my age? I am 58, 5'6″, and weigh 210 pounds & work as an admin clerk.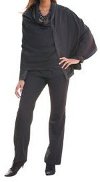 Large women look stylish  in tailored, monochromatic (dark color) clothing and accessorizing with stylish handbags and scarves. Draw attention upward to your face area with good looking jewelry, an up-to-date hairstyle and flattering make up. Be sure you are wear the best under garments especially a bra with good support.
Read More:
Build A Basic Wardrobe
There is no perfect basic wardrobe that applies to all. A basic wardrobe takes into consideration lifestyle or clothing for all of our activities. If you are a hockey coach your wardrobe is going to be a lot different than a corporate lawyer's. However when we choose a basic article of clothing it is something we should plan on wearing many times (getting our money's worth). These items are like good investments since they will reward us many times in the future. When buying basics purchase quality pieces, not necessarily the most expensive.
 Dressing For Your Body Type
Knowing your body type/ shape is important. In order to look good you need to choose clothing styles that flatter you. Few if any of us have the "perfect figure."