How to Cut Your Own Fringe (AKA Bangs)
Straight Fringe
How to Cut Your Own Fringe. It seems that fringe have been increasing in popularity as of late, especially those that are worn a bit longer. Since my early days as a stylist, many of my clients have had a love hate relationship with the concept of wearing a fringe, mostly revolving around the maintenance being so frequent. With a longer fringe currently being in vogue that is definitely a relevant concern. While most upscale salons offer a zero cost fringe trim between regular haircuts, I decided after seeing the handiwork of too many of my own clients that had succumbed to their own impatience, to show them how to do it properly themselves. Enjoy the tutorial!
How to trim a fringe (bangs) the professional way!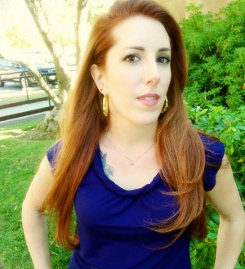 Sara Beth Cuadra
Guest Writer
Read More:
The Curl Stick
The  curl stick for care free curls.  One of the most requested long hair styles in the salon as of late has been soft curls reminiscent of beach waves. Just about every celebrity wearing a longer length hairstyle has at one time or another been photographed with this look which has added to it's popularity. To demonstrate how effortless it is to recreate at home, I have created an easy to follow tutorial which will show you how to style like a pro using a curl stick.

Hair Styling Tips for Travel
With the summer months approaching travel is becoming more frequent for many and that includes going to different climates, be it an exotic location that offers a respite from the routine of daily life, visiting friends and family across the country, or perhaps there is a new career opportunity beckoning you from another state or continent. Whatever the situation may be, looking your best is always relevant. So have you ever wondered why when traveling to different climates suddenly your hair has taken on a completely different personality and began behaving badly? Well maybe you have, and never realized there was something that could be done. Well, there is!

Save
Save