What color jewelry should I wear with a dark, navy blue dress?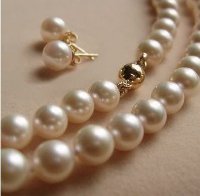 Any metal (gold or silver), pearl or sparkly (quality rhinestone or diamond) jewelry would look great with a dark, navy blue dress. A color like turquoise would look fabulous too! When you choose your jewelry think about where you will be wearing your dress: a cocktail party, business lunch, etc. Next take into consideration your skin tone and hair color. Pearls are classic and always look chic and go with most skin tones. A little bit of experimentation will help in deciding what is most flattering on you.
Read More:
MATCHY, MATCHY OR NOT!
Matchy, matchy or not! In my showroom, Moxie, at the San Francisco Gift Center, those two philosophies are embodied in my showroom manager, Silvia Cuadra, a very stylish Latina fashionista, and myself with a bit edgier outlook on the fashion game.
How to Wear Colorful Jewelry
Even women who love color are sometimes concerned about how exactly to wear colorful jewelry. It's easier than you think! And certain to help make your personal style and flair shine through in a most distinctive and beautiful way.
Gemstones: Miraculous and Mysterious
A gemstone is a mineral rock or petrified material that when cut or faceted and polished can be used in jewelry or is a collectible. Others are organic. Some are too fragile to be used in jewelry, but can be seen on display in museums. The most important attribute of gemstones is their appearance. Gemstones are all different. Things to consider when shopping for gemstones are color, clarity, cut, size, rarity, durability and fashion.