What color fascinator, shoes & bag will go with a silver mother of the bride outfit?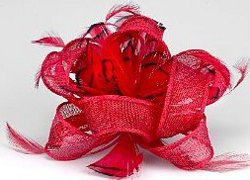 A colored fascinator and handbag with pewter or silver color shoes or a colored fascinator with a silver / gray / pewter bag and shoes would be fabulous. A gray / pewter / silver monochromatic color scheme is another option. If you decide on a color for your bag and / or fascinator be sure it looks good with the color scheme the bride has chosen for the wedding. A silver Mother of the Bride outfit is a neutral color and will look great with a number of color accessories.
Read More:
What Should the Mother of the Bride Wear?
The one given when deciding what to wear for your daughter's wedding is that every MOB (Mother of the Bride) wants to look great. Your daughter is the center of attention on her wedding day but that doesn't mean you can't shine too. Mothers of Brides usually have first choice when it comes to selecting an outfit for their daughter's wedding but should let the Mother of the Groom in on what she is wearing if possible. A personal shopper/stylist at your favorite department store can help in selecting a MOB outfit.