How can I "add a bit of color" to a black taffeta dress? It is above the knee & the neckline is "V" to angled.It's for a PM wedding @ a Ritz in GA.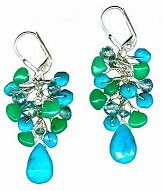 There are countless ways to add a bit of color to a black taffeta dress. You can wear statement earrings since you describe the neckline as "V" to angled and wear black or silver shoes and carry a black or silver evening bag. Statement earrings, black shoes and a black purse with a colorful pashmina shawl is another idea. If you want to wear red (colored ) shoes and matching color evening bag that will look good also. Have some fun experimenting with your different options and wear what is the most flattering on you.
Read More:
How to Wear Colorful Jewelry
Even women who love color are sometimes concerned about how exactly to wear colorful jewelry. It's easier than you think! And certain to help make your personal style and flair shine through in a most distinctive and beautiful way.
Jewelry That Makes A Statement
Jewelry that makes a statement sends a message about who you are and what you value, conveys confidence and can make an outfit chic. I think what you notice first about someone is their personal statement. A piece of jewelry that catches your eye when you see a woman qualifies as a "statement" piece of jewelry. Something that stands out from everything else.
Follow 4FashionAdvice.com's board Street Style on Pinterest.