Clothing: Tomorrows Toxins?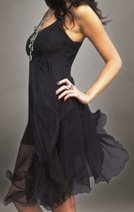 Design by Linda Loudermilk
Made from sustainable chiffon silk and lyocell
(a biodegradable fabric spun from wood pulp)
The Case for Reused /Recycled and /
or Environmentally Sensitive Clothing!
Fashions have a short-lived trend cycle. Many garments end up in waste bins in a season or two. Some fashions end up in landfills without even having been worn at all. These fashions from last year can end up being tomorrow's toxins (around 1 million tons of textiles end up in landfills each year). It takes clothing a long time to decompose. Because of the use of bleaching, dying and printing processes in manufacturing, they can percolate deadly toxins /or chemicals and gases.
Companies like Nike and Patagonia have started recycle programs and are concerned about:
What kind of pesticides/fossil fuels are used to grow natural fibers?
Amount of water used to produce the clothing?
Method of transportation if manufactured in another country? Air freight, cargo ship,etc?
Must the article of clothing be dry cleaned?
Around the world boutiques have sprung up offering environmentally friendly clothing. In addition, women are purchasing clothing on eBay and other internet sites selling vintage clothing. A real find would be a designer item on eBay, but it won't go for cheap. However, eBay has millions of listings in accessories, clothes, and shoes and most of these items don't go for high prices.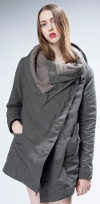 Eco Friendly Clothing
Linda Loudermilk, Eco Chic Designer
Green Beauty Products for Your Hair and Skin
Pictured: Rain Blanket @  Praire Underground
Save
Save