Can I wear sheer, black tights with a short black, shimmery dress & peep toe black velvet shoes with diamantes? This is for the company ball this weekend. I have dark skin & it's winter & I don't think I can go bare legged?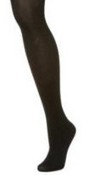 Sheer black opaque stockings or sheer black tights would look very stylish with your short black, shimmery dress and keep your legs warm. Your black dress and black velvet, peep toe style shoes sound perfect for your company ball.
Read More:
Heel Heights and Hemlines for Business
I can't remember when there have been so many choices in shoe styles and hem lengths. It seems like anything goes! But not for business attire!
Office Fashion and Etiquette
Fashion, your appearance and office etiquette, say a multitude about you and can determine how far up the ladder of success you'll be going. When it comes to fashion at your office know what position and / or title you want to achieve and dress for that position. The way you present yourself says whether you are " on the ball".
Power Scarves for Professional Women
There is nothing better or more luxurious in the scarf category than a Hermès silk scarf. This accessory (at least one) is a must have in the professional woman's wardrobe. Their scarves have beautiful designs and can add color to a basic suit or dress that says power and authority in a quiet way.
Dressing for the Power Lunch
Ever since humankind slipped into the first animal pelt, rafia skirt or toga, clothing has been used as a powerful communication tool.  Whether it's pips on a General's epaulet, ermine on a Lord's robes or stripes on an old Etonian's tie, clothing is ubiquitously used to denote background, status and power.