Can you suggest a wrap & color & style for shoes appropriate with a long, beige/champagne colored dress? My son is getting married in November & the dress I am wearing is sleeveless with lace tiers & small silver sequin accents throughout the dress. I am 48 years old, love fashion & do not want to look older.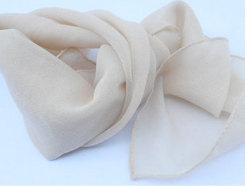 A chiffon, silk or satin  wrap or bolero jacket that matches the color of your dress would look great with your long, beige/champagne colored dress with lace tiers and small silver sequin accents. It is more important to have the focus of attention on you not your feet. Choose beige / champagne color closed toe slingback or closed toe pump style shoes that will not stand out. Tasteful jewelry, an up to date hairstyle and flattering makeup will draw attention upward to you. Your dress sounds awesome!
Read More:
What Should the Mother of the Groom Wear?
You are the Mother of the Groom. You want to look great and make a good impression at your son's wedding. How do you begin to choose an outfit? It is a good idea to talk to the bride about her color scheme for the wedding and find out what type of wedding she is planning (daytime or evening).
White Gems
Little white gems, or pearls are considered  the quintessential jewelry classic. Stylish and elegant women have always worn pearls. Little white gems go with everything from casual clothing to formal outfits. Every season pearls are a hot fashion trend in jewelry.
A Girl and Her Heels
I hate wearing flats.  There I said that too! (I do recognize that there are times when heels are inappropriate….like when I was in India and wore flip-flops and sandals for 5 weeks!).