Can I wear black leather pants in the evening?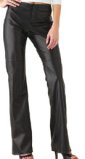 Leather is so luxurious. Black leather pants come in all styles and are alright to wear most of the year (except in hot weather). If the leather pants you have are flattering on you, you should feel comfortable wearing them day or for an evening out. Most leather pants are not appropriate for a formal occasion. Enjoy!
Read More:
Build A Basic Wardrobe
There is no perfect basic wardrobe that applies to all. A basic wardrobe takes into consideration lifestyle or clothing for all of our activities. If you are a hockey coach your wardrobe is going to be a lot different than a corporate lawyer's. However when we choose a basic article of clothing it is something we should plan on wearing many times (getting our money's worth). These items are like good investments since they will reward us many times in the future. When buying basics purchase quality pieces, not necessarily the most expensive.
Handbags, Scarves and Belts
Women's fashion accessories such as handbags, scarves and belts allow you to vary your basic clothing. The accessories you wear should go together. Two accessories in the same color are enough. For example if you are wearing a gray dress with a red belt. You can add a scarf that has grey, red and black in it. Then wear black shoes and carry a black handbag. Stylish women over time have pulled an entire outfit together, developed their individual style and / or added a final touch to their outfits with the right accessories.