Can a straight skirt, mid-calf length be worn this Fall?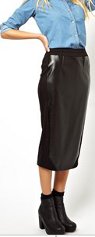 Straight skirts are classics and always great basic wardrobe pieces no matter what your age. Any length skirt is in style this fall if it is flatters you. Usually mid calf length skirts are very flattering on tall women and they can be worn with different types of footwear. Ankle boots, knee-high boots or pumps look great with straight mid calf length skirts.  Why not try wearing them with menswear style flats one of this seasons hot shoe styles?
Read More:
Update Your Look With Stripes
Update your look with stripes! Fashions with stripes are going in all directions and on everything from shoes, handbags, tops, bottoms and dresses, etc. The great thing about stripes is everyone can update their look wearing stripes. Accessories like shoes, scarves, handbags, etc. or clothing that has stripes on trim or accents can give your look an instant fashion update.
Dress Like the French – Wardrobe Check List
To dress like the French you need clothing in simple, timeless styles, in neutral or pastel colors that flatter your skin tone. French women avoid patterns and focus on clean lines. They avoid the girly, frilly look and dress age appropriately. To dress like the French requires planning ahead and paying attention to details plus knowing what looks good on you. The French chic know that wearing the right size clothing that fits well and is comfortable is very important. You really don't have to suffer at all to dress like the French!