Are pearls still in style today?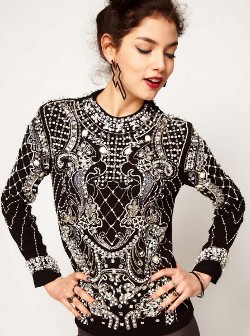 Style icons have been wearing pearls for centuries. Pearls are timeless classics; luminous, elegant, stylish and versatile. Pearls can be combined with the metals (gold and silver) or sparkly stones (quality rhinestone or diamonds) for an up to date look. Designers are putting pearls on footwear, legwear, sweaters, clothing and accessories. For a new look try combining a pearl necklace or two with a pendant, shiny chains and or vintage pieces.
Balmain design pictured.
Read More:
White Gems
Little white gems, or pearls are considered the quintessential jewelry classic. Stylish and elegant women have always worn pearls. Little white gems go with everything from casual clothing to formal outfits. Every season pearls are a hot fashion trend in jewelry.
Pearls Are a Gift From the Sea
Pearls are a gift from the sea. Always in style, pearls are timeless. They have been around and valued since ancient Egyptian times when they were found by fishermen accidentally. Today the pearl industry is a multibillion-dollar business. Elegance and in some cases rarity have made pearls a traditional sign of wealth.
Jewelry Essentials
Like a basic clothing wardrobe you can build a basic collection of jewelry with a few pieces that can be worn for many years and on numerous occasions. The two most important considerations when choosing jewelry are quality and choosing pieces that compliment you. For instance, you should choose pieces according to your face shape, hair style, hair color, skin tone, and body proportion. Remember to buy the best that you can afford! A purchase of fine jewelry is a worthy investment.