Are hemlines up or down? How can I determine what hemline is best for me?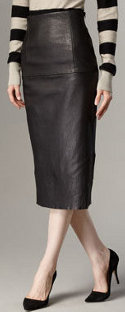 Hemlines go up and down. The length of your hemline should be determined by your height and what figure type you have and the occasion for which you are wearing the outfit rather than your age or trends. However most women over 25 don't look so great in micro minis. First take your figure type into consideration. If you have a good figure choose a hem that goes to the middle of your knee cap. You can wear a shorter hem (2″-3″) above the knee if you have good-looking legs and knees. (Knees are ugly and you do not want them to be exposed.) The taller you are the longer your hem can be and still look flattering; try a mid calf length. If you are short and heavier your hem will look best if it covers your knee to 1/2′ below. The best way to decide on a hem length is to try different lengths on and look in a mirror. Anything goes if it looks great on you!
Read More:
Heel Heights and Hemlines for Business
I can't remember when there have been so many choices in shoe styles and hem lengths. It seems like anything goes! But not for business attire!
Follow 4FashionAdvice.com's board Street Style on Pinterest.