Is it appropriate for a 61 year old female to wear tights or leggings with a dress?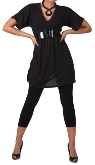 Tights or leggings can be worn with a dress. When considering whether something is appropriate to wear or not to wear determine how it looks on you. Ask yourself if it flatters your figure type. If it looks good on you go for it. Many mature women have fabulous figures and look great in many different styles. Stay away from clothing that is too short, too tight, or too low cut if you want to be stylish looking as you age.
Read More:
Fashion Tips
Fashion tips to help make a positive first impression!
Winter White – A Show Stopper
Winter white is a show stopper this Fall! The "Little White Dress" (LWD), white pants and skirts are hot trends that are showing up for fall 2013 in a variety of fabrics and styles.
Dress to Kill: Bring Your Wardrobe Back to Life!
Spark up your creativity and revamp your wardrobe. Being fashionable isn't about following trends or being the quintessential sultry goddess we all desire. It doesn't involve strategically planning each outfit either. So, what does? Ladies, simply working with what you've got is the key.

Follow 4FashionAdvice.com's board International Fashion Trends on Pinterest.