What does your denim choice say about you?
By Phoebe Ryan
What Sort of Message are You Sending?
Have we got you worried? Did you know your denim jeans are broadcasting loud and clear about your attitude and your personality, and that rightly or wrongly, the first impression is one you can't take back? Below we've listed five different types of denim jeans which prompt five different responses, so read on to see what sort of message you're sending before you've even exchanged a greeting with someone.
Black, well-cut jeans are the weekend uniform of the businessman who doesn't know what to wear when he takes off his suit. Chosen in a classy brand, like the Hugo Boss model below, they are smart, classy and serious.
Wear them well: They're perfect for a casual lunch, dinner-do or restaurant date, with a smart shirt (although they certainly don't qualify as 'SMARTsmart' – get a suit). Unbutton your shirt at the neck and don't wear a tie, or you'll look overdressed. These jeans say confident businessman, conservative denim dresser.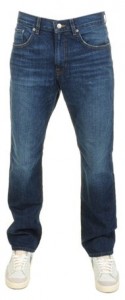 The smart-casual appeal of these jeans make them a real go-to choice for so many men out there. With a subtle but classy label (these are Lacoste offering a good fit and high quality, you are clearly wearing a classy pair of jeans, but haven't tried too hard. The classic denim colour says casual, but the slim-leg cut says hip. This cut is great if you are attracted by the style potential of the skinny leg jean, but are a more forgiving cut. These jeans work with t-shirts as well as shirts, and can take you from day out to impromptu dinner without a hitch.
Wear them well: They are just so wearable! Allow different choices on your top half to take you to different looks – from t-shirt to open-necked shirt, you have so many options covered. You look like a carefree and impromptu kinda guy, but this choice shows preplanning and a wise wallet. Your choice of sweater allows you to swing between really casual or smarter. Opt for cashmere or wool over an open-necked shirt for a lunch date, or for smart casual wear.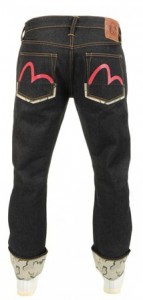 If your jeans are smothered in logos, you'd better be sure you are confident in the brand. You are selling yourself as a confident fashionista dedicated to this label – after all, your butt is basically advertising for them! This Evisu pair identifies you as a hip kind of guy, likely to splash your cash on material goods. You probably drive a flashy car. If your partner is a label queen too, you're rocking Barbie and Ken matching looks. Don't go overboard though!
Wear them well: These jeans are perfect for a night in a high-end cocktail bar, a day of shopping, or window shopping, in a mall or fancy department store. Wear with a (subtly) branded polo top for label-loving appeal that isn't too in-your-face.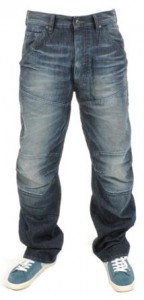 The baggy jean is a comfortable, everyday refuge for a man with more on his mind. The baggy look below, balanced by a low crotch and faded, vintage feel, illustrates the perfect jeans for a man's man. You wear them every day – and we can tell. You need to get a few more options for your bottom half, so that these 'man's best friend' jeans don't become the only item in your wardrobe.
Wear them well: If you are outdoorsy and active, these jeans are the perfect choice for dressed-down comfort. Avoid wearing them day-in, day-out. What people might at first read as casual and relaxed, they might come to read as 'couldn't care less'.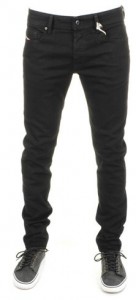 These jeans have been in fashion for over a decade now, but they are still the reserve of the skinny, teenage music lover. To pull them off as an older man is difficult – but if you succeed, you are the first word in cool. By wearing them people will presume that you are on-trend in other aspects of your life – so scout out some up-and-coming bands you feel confident recommending, or an independent film or two that you really like.
Wear them well: by teaming them with a band t-shirt for a casual hipster vibe. As a rule, you should steer clear of the 'skinny jean' if your body type does not fit the description – skinny. That is the tough truth. Even a well-built, muscular frame would be better suited to something slim leg, as suggested above, as opposed to these stick-thin wonders.
Phoebe Ryan
Guest Writer
Phoebe lives in the great northern city of Leeds.  She always has her nose in a good book (if it isn't already busy between the rails of clothes in a vintage store or hanging over a plate of delicious food)!